Welcome to
Drop 'N' Toss
"Experience the Difference"
Environmental Services in the GTA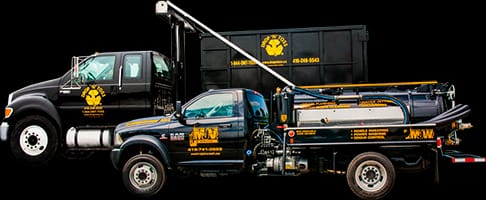 Drop 'N' Toss is a waste solutions company which was founded in 2015 to answer the industry demands for additional services from our mother company Metro Jet Wash. Drop 'N' Toss offers Junk Removal, Bin Rentals and Emergency Clean-Up Services for all your residential, commercial and industrial needs.
Drop 'N' Toss is proudly Canadian. Our locally made bins and equipment are all exceptionally made. Through all of our partnerships and services, Drop 'N' Toss prides itself on credible service and quality rentals.
Fast, honest and convenient service is our staple. In just a few years, we have already become a go-to for many contracting companies, renovators, consultants, and other commercial and residential clients. We guarantee no hidden costs and drop-offs and pick-ups within 24 hours.
Drop 'N' Toss aims to reface the industry with a more honest and professional approach to waste management and environmental services. The company was founded by professionals who have spent over 40 years in the waste management and environmental industry, some of which grew up in it. As experts in the industry, we want to properly foster and take care of current and future clients in an honest and professional manner.
In Association With
Sign Up for Our Newsletter
Sign up for our monthly newsletter to receive the latest promotions and sales information, as well as updates on new services and upcoming events. Don't miss your chance to save today!

FAQ's
How long can I rent a bin for?
Generally, 7 days or less starting the day it's dropped off. $25/day starting on the 8th day.
What is not allowed in the bin?
Items that cannot be dumped are subject wastes, liquids of any kind, hazardous substances or materials, batteries of any type or size, fridge's/freezers, tires, asbestos containing materials, compressed gas containers empty or full, and radioactive waste or materials.
This is for the health and safety of all. Contact us (416-248-5543 or 1-844-DNT-TOSS) or your municipality for guidance and clarification.
Recyclables, compostables, renewables and reusables are encouraged to be diverted from landfills.
How much does it cost?
Prices vary depending on weight in the bin and materials being disposed of. Contact us and we will help estimate based on past bins of related projects.